–New Entertainment Park to Create Festival Atmosphere for Foxfield Racegoers-
(Charlottesville, VA – March 17, 2022) – The Foxfield Races, Albemarle County's signature Steeplechase racing event, will debut an exciting new experience for general admission ticket holders during its spring races on April 30. Already, the community's excitement for the spring races is palpable. In advance of the April 1 price increase, more than 3,000 tickets have been sold, breaking records of years' past within the same time frame. Much of this can be attributed to all of the new race-day enhancements, including the Entertainment Park.
The New Orange Entertainment Park will feature:
A 21' x 12 ' video wall, allowing attendees to cheer on their favorite jockey or horse from the infield
Local favorite food vendors, including Naders, Popito's Pizza and The Gus Bus
Local beverage vendors, including Devil's Backbone Brewing Company, Bold Rock Hard Cider and Virginia Eagle Distributing, one of the largest Anheuser-Busch wholesalers in the country
Kendall Stewart, 106.1 The Corner's local radio host
Community shade tents and water stations
Expanded space, including more area to watch the races from along the rail
Right next to the New Orange Entertainment Park is the Green section, which will feature a new Vendor Village with shops as well as additional food vendors, such as Buzzing Bee Coffee, The Pie Guy and Mr. Z's BBQ. The pop-up shops in Vendor Village will feature local and national brands and artisans, including Vineyard Vines, Gillian Valentine, Loleono, Millmont Leathers, Virginia Peacock, Meanwhile Back on the Farm, Grey Horse Saddlery, Heirloom Home, J. Wilder, Toadstool, Sunflower Trading, Virginia Peacock, and a Foxfield merchandise tent.
"The New Orange Entertainment Park and Vendor Village were designed to enhance the Foxfield race-day experience for our largest race of the year," said Kelsey Cox, Foxfield Racing Executive Director. "Attendees will have more space, more activities and more ways to meaningfully interact with each other and with the races. The Foxfield Races staff and board have been working tirelessly to create an even more memorable experience for students, as well as guests of all ages. We're excited to finally bring our ideas to life this year."
In the fall of 2021, Foxfield launched a new online ticketing platform on its website where race-day tickets are available for purchase. The ticketing platform allows spectators to better visualize locations throughout the course and understand the benefits of each section. Attendees can select their parking space, while considering additional add-ons as needed, such as tent set up and take down. Personalization and a streamlined entry process will welcome new and returning friends to the race course.
The Foxfield Races also announced that a portion of proceeds will benefit Camp Holiday Trails and its 50th Anniversary Campaign to renovate and expand camp facilities to engage more children with medical needs and chronic illnesses. Foxfield's fall philanthropic partner is Habitat for Humanity of Greater Charlottesville, which received $50,000 from proceeds of the fall 2021 races.
For more information, visit www.foxfieldraces.com or contact Kelsey Cox at [email protected].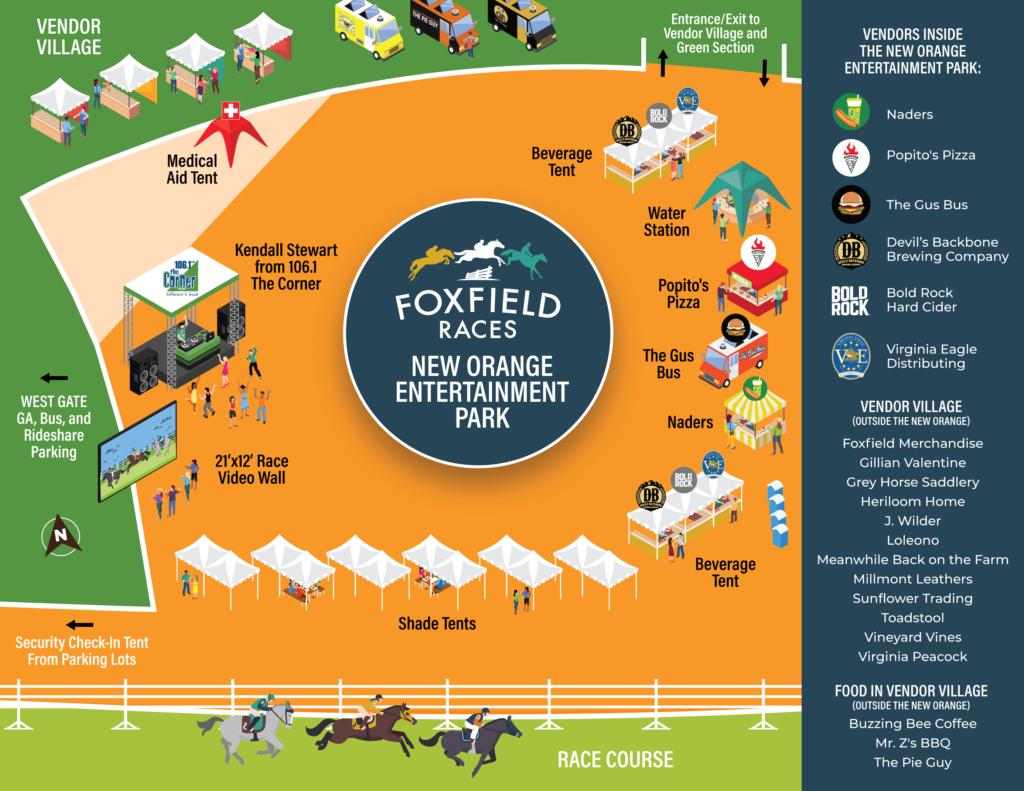 ABOUT THE FOXFIELD RACES
The Foxfield Races conduct steeplechase racing in Albemarle County, Virginia, twice a year on property conserved under easement. The races are managed by the Foxfield Racing LLC as a subsidiary of the Garth Road Preservation Foundation, both not-for-profit 501(c)3 organizations.