Race Day Rules and Information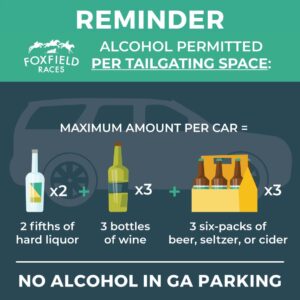 Failure to honor race day policies may result in expulsion from grounds, loss of reserved space(s), and prosecution where applicable. Areas will be patrolled for compliance in the interest of safety and adherence to the laws of the Commonwealth of Virginia.
As a guest on Foxfield property, we require you to obey all laws, directions, and policies, which will be enforced by Law Enforcement and Foxfield Security.
Each reserved parking space is allowed 2 fifths of hard liquor (750 ml each), 3 bottles of wine, & 3 six-packs of beer/seltzer/ RTD's.
No consumption of alcohol by minors or serving alcohol to minors. You must be 21 years old to consume or have in your possession lawfully acquired alcoholic beverages.
No use of illegal drugs.
No drunkenness or disorderly conduct is permitted.
No devices are allowed on grounds that enhance alcohol consumption, such as beer bongs, liquor luges, ice troughs, etc.
No one will be allowed to bring alcohol to track from the GA Parking area.
Alcohol will not be allowed in or out of the New Orange Entertainment Park. You must be 21+ to drink. ID's will be checked by hired staff and security.
For your safety and the safety of the horses the racecourse is off limits to the public except at designated crossings at designated times. No throwing anything at a jockey or a horse. We have a Zero Tolerance Policy for non-compliance. Any person caught not adhering to these policies will immediately be escorted off of the grounds and may face prosecution.
No amplified or loud music and no DJ's or dance party activity are allowed in the reserved parking spots. You will be asked to shut down any equipment that encourages a dance party atmosphere in the reserved parking spots.
No grills or open fires are allowed anywhere on the grounds.
No Dogs or Pets of any kind are allowed on the grounds. Vehicles containing dogs or pets will be turned away at the gate with no refund given. Please contact the office for arrangements for registered service dogs.
We allow 10 x 10 pop up tents. These tents should be erected at least 4 ft off the rail.  Please be mindful of your neighbor(s) and avoid space overcrowding. Rental tents are available.
Races are run rain or shine. No refunds will be made.
Please be safe and responsible, and we hope you have a great time at the Foxfield Races www.foxfieldraces.com, Facebook "The Foxfield Races", and Instagram #foxfieldraces
We hope you have a great time at The Foxfield Races.