Race Day Rules and Information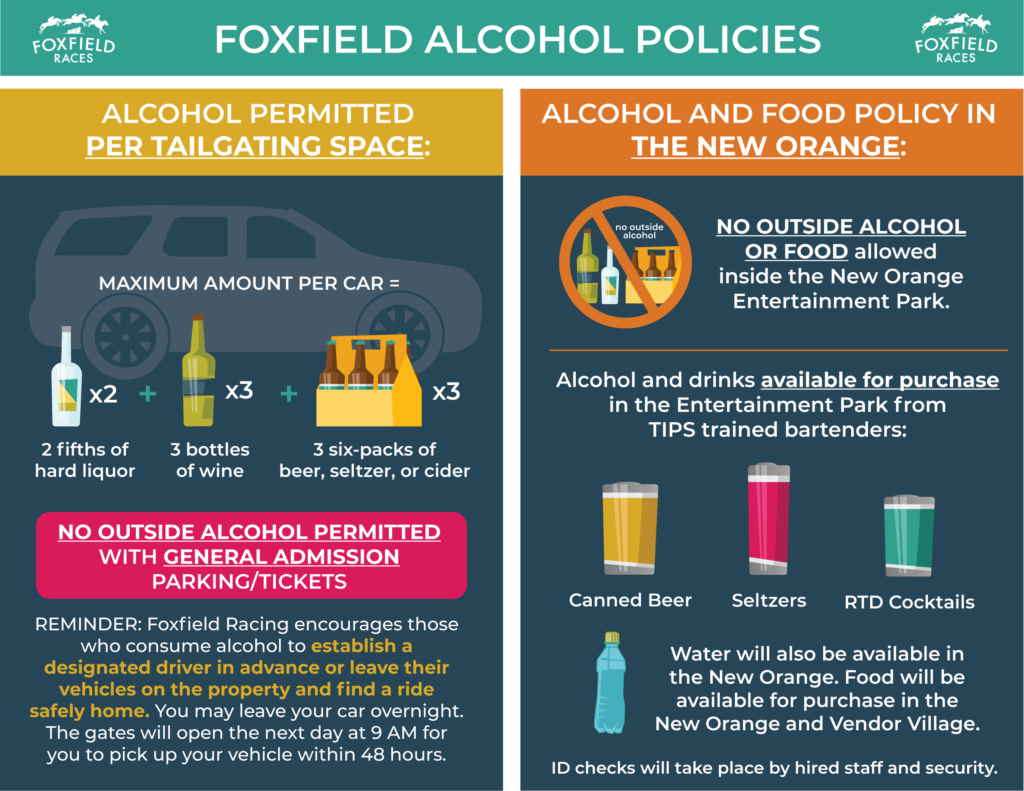 Each reserved parking space is allowed 2 fifths of hard liquor (750 ml each), 3 bottles of wine, & 3 six-packs of beer/seltzer/ RTD's. No one will be allowed to bring alcohol to track from the GA Parking area.
Races are run rain or shine. No refunds will be made.
Thunder and lightning may postpone a race, however the race will continue once the storm has passed as long as the footing is safe for the horses.
We advise you bring extra trash bags for your space. A trash bag has been placed in each reserved parking space. Trash barrels and dumpsters are supplied for you to dispose of your trash. Please help us in preserving the property.
Food vendors are available in the New Orange Entertainment Park if you do not bring your own picnic.

Weapons are prohibited.

For your safety and the safety of the horses the racecourse is off limits to the public except at designated crossings at designated times.

No Dogs or Pets of any kind are allowed on the grounds, except for sanctioned activities. Vehicles containing dogs or pets will be turned away at the gate with no refund given.

We allow 10 x 10 pop up tents. These tents should be erected at least 4 ft off the rail. Please be mindful of your neighbor(s) and avoid space overcrowding.
You may leave your car overnight. Your car may be picked up between 8:00 a.m. and 5:00 p.m. the day after the race.
No grills or open fires are allowed anywhere on the grounds.
For our fall race, Children must be accompanied by an adult in the Children's Tent and the adjacent areas with children's activities.
Failure to honor race day policies may result in expulsion from grounds, loss of reserved space(s), and prosecution where applicable. Areas will be patrolled for compliance in the interest of safety and adherence to the laws of the Commonwealth of Virginia.
As a guest on Foxfield property, we require you to obey all laws, directions, and policies, which will be enforced by Law Enforcement and Foxfield Security.
Please be safe and responsible, and we hope you have a great time at the Foxfield Races www.foxfieldraces.com, Facebook "The Foxfield Races", and Instagram #foxfieldraces
We hope you have a great time at The Foxfield Races.