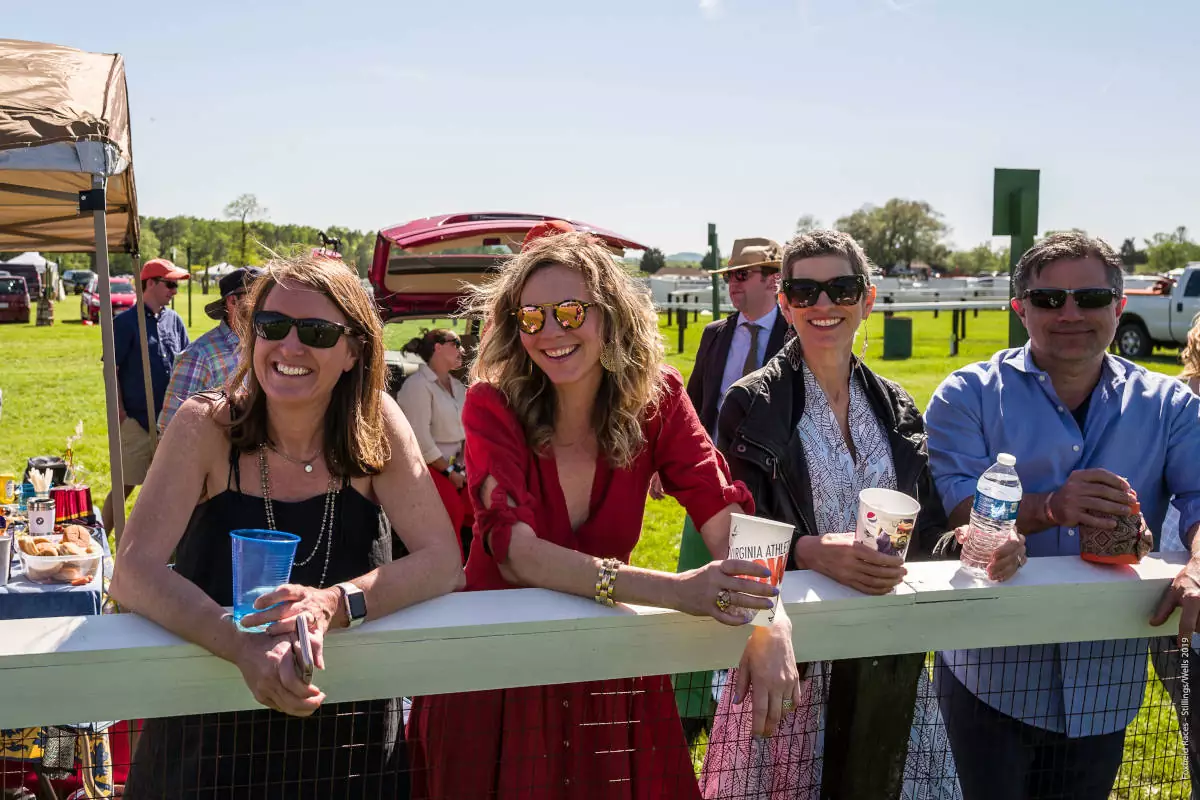 Frequently Asked Questions
You can buy online here.
You can also contact Customer Service to place an order for tickets, 800-478-3416.
We no longer sell tickets in retail outlets as all tickets are electronic tickets. Tickets are delivered directly to your email address.
How do I keep my reservation?
Reserved spots are held for Foxfield's Founders Circle members only. If you are interested in becoming a Founders Circle member and purchasing the same spot you held last race, please contact the Foxfield Race Office, 434-293-9501 or information@foxfieldraces.com. The race office staff will be able to discuss all arrangements for the parking space with you.
More information about the Founders Circle can be found here.
What are the rules and regulations for race day?
Please click here to view or print our rules and regulations. Please read carefully, as you are agreeing to this by purchasing tickets to The Foxfield Races.
Only if you are 21 years old or older and the alcohol is lawfully acquired. Please review the rules for details.
What is the difference between the color-coded sections?
The Green section is home to general admission and tends to have families with children and establish groups. During the fall race, the Green section is home to the Children's Tent with activities to younger attendees.
The New Orange Entertainment Park (open only during the Spring Race) welcomes all general admission attendees from students from colleges and universities in and near Central Virginia to professionals from Central Virginia.
The Blue section is on the outside rail and is a very relaxing area to view the races. It is also a very easy area for Handicapped Accessible requests.
The Pink section hosts Sponsors and general admission. During the races, you can catch the start and finish from this section.
The Purple section hosts Sponsors.
What is the last day I can order tickets?
You can purchase additional tickets and additional general admission parking all the way up to race day. All tickets are electronic and delivered via email to your email inbox.
Reserved parking spaces in our color-coded sections are on sale through our website up to 2 weeks before race day or while supplies last, whichever comes first.
What happens if I lose my ticket?
I didn't receive my ticket at the right address, what can I do?
If you did not receive your tickets to your email address, please contact Customer Service at 800-478-3416 or ticketing@foxfieldraces.com in advance of race day.
If you did not receive your reserved parking space hangtag in the mail, please contact Customer Service at 800-478-3416 or ticketing@foxfieldraces.com in advance of race day. Foxfield will address mis-shipped hang tags on a case by case basis and will be happy to assist you in finding a solution prior to race day. If you do not contact Foxfield prior to race day, anyone who comes to the gate without their parking pass or tickets will be turned away.
Do children need tickets?
Children 12 and under are free of charge. Children do not need a ticket.
No, we love dogs, but not at the races.
Registered service dogs are accepted. Please contact the office to make arrangements.
Will I get to interact with the horses?
No interaction or touching of the horses is allowed. Thoroughbred racehorses are best observed from a distance.
You'll see everything from Sunday Best to Country Casual for both men and women at the Foxfield Races. Women lean towards dresses, while men are usually in a shirt and tie, often paired with khaki shorts. Hats are a big favorite at the races! The most important thing to remember is to wear appropriate shoes or boots, as you will be in a field the whole day.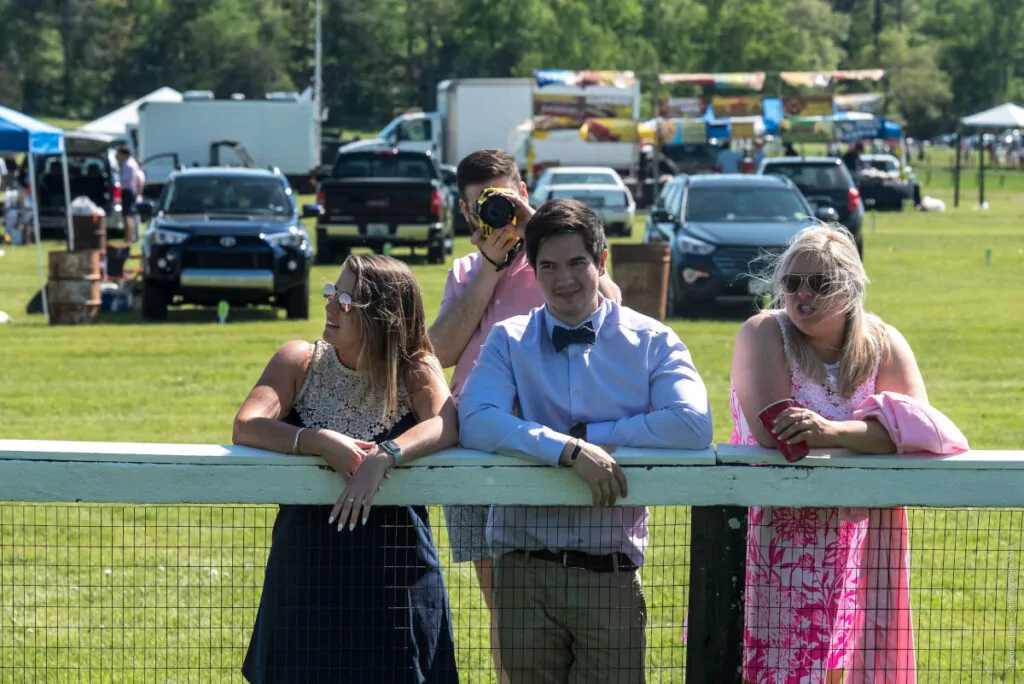 Due to the safety of horses and riders, personal pop-up tents with four corner stakes may be used in your parking spot. Your tent must be adequately secured in the ground and behind the line drawn in your space.
Or rent a 10×10 tent from Foxfield for $200.  Please add this to your cart when purchasing tickets, or call the office to make arrangements at least 7 days prior to race day. Learn more about tent options here.
All branded signage and tents are reserved for Foxfield sponsors, advertisers, or vendors. Please contact the Foxfield Race office  434-293-9501 or information@foxfieldraces.com and we will be happy to assist you with arrangements.
Is food available at the races?
During the Fall Races, there are local food and drink trucks ring in the Green Section.
During the Spring races, there are vending stands and food trucks also in the New Orange Entertainment Park. Reminder that no outside food can be brought into the New Orange.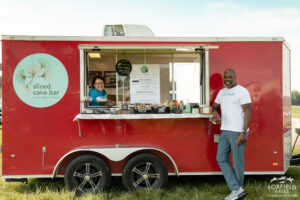 Can I leave my car overnight?
Yes, you may leave your car overnight. The gates will open the next day at 9 AM for you to pick up your vehicle. After 48 hours, your car will be towed. Foxfield Racing LLC encourages those who have consumed alcohol to leave their vehicles on the property and find a ride safely home.
Where can I purchase Foxfield merchandise?
There are 3 Foxfield souvenir stands on race day (see below map) or head to our online shop!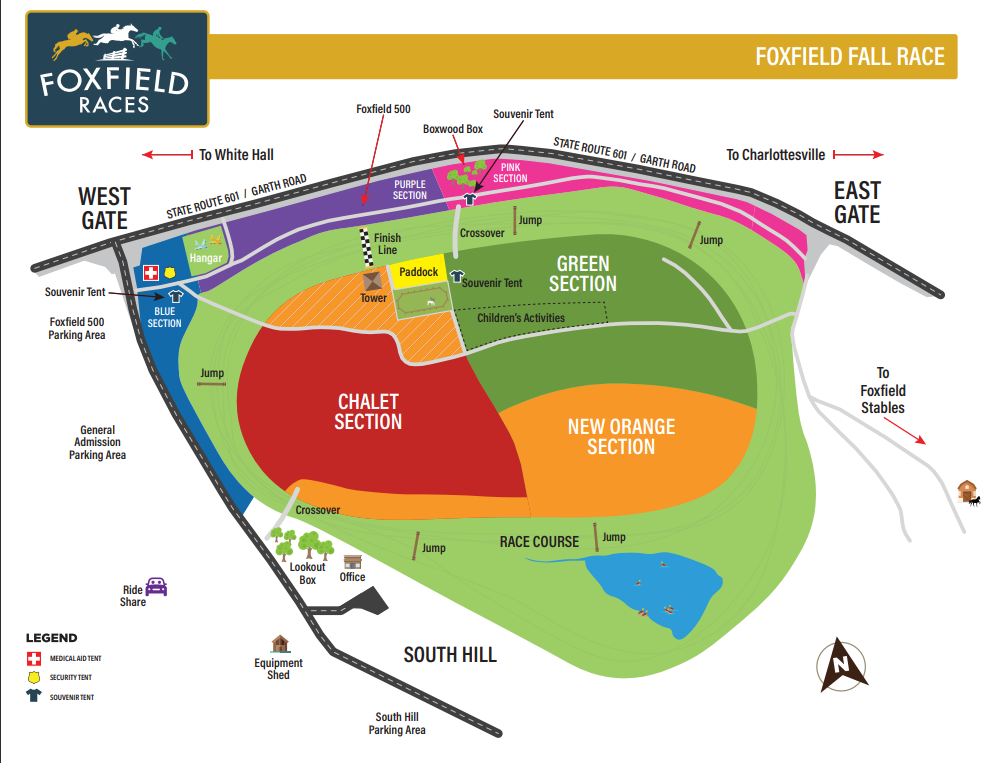 How do I get a press pass?