The April 30th Races Bring Exciting New Changes and Support for Camp Holiday Trails
(Charlottesville, VA – Feb. 7, 2022) – Albemarle County's signature Steeplechase racing event – the Foxfield Races – will return to full spectator capacity on Saturday, April 30. Tickets are now available on Foxfield's new online ticketing platform at www.foxfieldraces.com. The spring races promise a new and exciting hospitality experience, a New Orange Entertainment Park, a stronger field of horses and riders, and the launch of a philanthropic partnership with Camp Holiday Trails.
The ticketing platform launched prior to the fall races last year and allows spectators to better visualize locations throughout the course and understand the benefits of each section. Attendees can select their parking space, while considering additional add-ons as needed. Personalization and a streamlined entry process will welcome new and returning friends to the race course.
A portion of sales will benefit Camp Holiday Trails (https://campholidaytrails.org) and their 50th anniversary campaign to renovate and expand camp facilities to engage more children with medical needs and chronic illnesses. Foxfield's fall philanthropic partner is Habitat for Humanity of Greater Charlottesville, which received $50,000 from proceeds from the fall 2021 races.
"Camp Holiday Trails provides amazing support to children with diagnoses ranging from cancer, asthma, and diabetes to epilepsy, autoimmune diseases, and others. Children throughout the Mid-Atlantic region benefit from CHT's in-person programs and facility and virtual camp experiences," said Kelsey Cox, executive director of the Foxfield Races. "Our goal is to provide financial support so more children can experience Camp Holiday Trails and help improve CHT's facilities to meet the needs of their campers."

The addition of new philanthropic partners isn't the only change Foxfield Races is making. The organization is focused on enhancing the race-day experience for sponsors and attendees and is announcing the following changes for the spring races:
A New Orange Entertainment Park for general admission ticket holders. This will allow attendees to continue to watch the race along the rail, as well as on a large video wall for those more centrally located. Also included in the New Orange Entertainment Park will be live music, local food trucks, a large tent for shade (plus, the option to rent tents for smaller groups), and drinks from local distributors!
Alcohol policy changes for increased safety on race day. For each tailgating space (single car), the maximum amount of alcohol allowed is 1 fifth of hard alcohol, 3 bottles of wine, and 3 six-packs of beer/seltzer/cider. Attendees in the New Orange section will not be allowed to bring alcohol in or out of the section, but those ages 21 and over can purchase beer, seltzers and more in the new Entertainment Park.
Fully catered tents along the rail near the finish line for major sponsors who are making significant investments in Foxfield's revitalized mission.
"We are excited to offer the New Orange Entertainment Park for an enhanced experience to our largest race of the year," said Cox. "Coming out of a snowy and cold winter with Omicron peaking, we expect everyone will be craving a fun and exciting outdoor spring event. We want to make sure we're delivering!"
For more information visit www.foxfieldraces.com or contact Kelsey Cox, [email protected].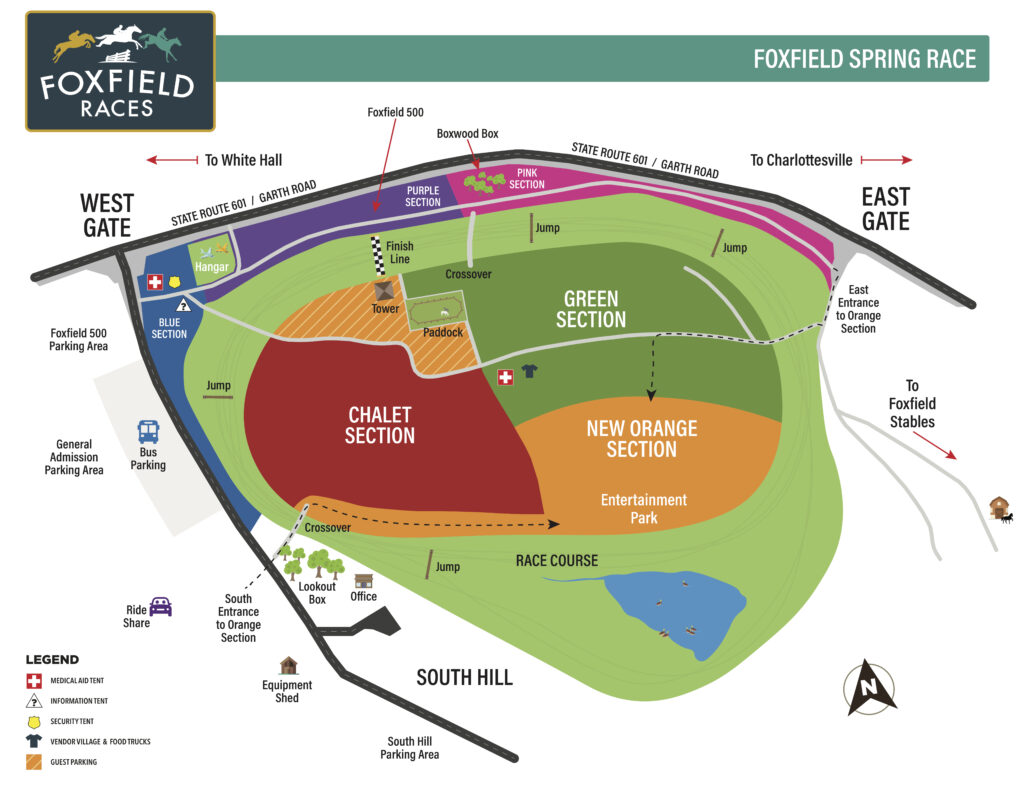 ABOUT THE FOXFIELD RACES
The Foxfield Races conduct steeplechase racing in Albemarle County, Virginia, twice a year on property conserved under easement. The races are managed by the Foxfield Racing LLC as a subsidiary of the Garth Road Preservation Foundation, both not-for-profit 501(c)3 organizations.